Features
Tomato puree is similar with
tomato paste
, ketchup. Tomato puree is a thick liquid made by boiling and filtering tomatoes. The difference between tomato puree, tomato sauce and tomato paste is consistency. Tomato puree has a deeper consistency and flavor than tomato sauce.
The definitions of tomato puree vary from country to country. In the US, tomato puree is a processed food product, usually consisting of only tomatoes, but can also be found in seasoned form. It differs from tomato sauce or tomato paste in consistency and content; tomato puree generally lacks the additives common to a complete tomato sauce, and does not have the thickness of paste.
To prepare tomato puree, ripe tomatoes are washed and the leaves and stem are removed. Some processors remove the skin of the tomato as well. The fruit flesh is then mashed or mechanically chopped to the desired consistency.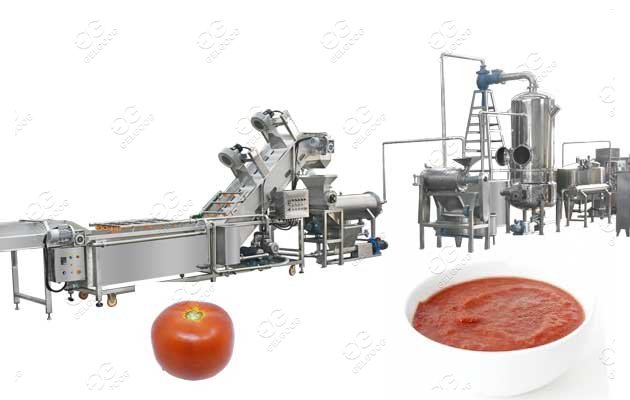 Tomato puree can be used in soups, stews, sauces, or any other dish where the tomato flavor is desired, but not the texture.
Tomato Puree Procssing Plant Introduction:
1. Picking Belt: Remove rotten tomatoes. Guarantee the quality of tomato puree.
3. Tomato blanching: Pour the trimmed tomatoes into boiling water and blanch them for 2 to 3 minutes to soften the pulp to facilitate beating.
5. Beating: After blanching, pour the tomatoes into the beater and break the flesh to remove the seeds and seeds. The beater is preferably a two-pass beater.
6. Sterilization and cooling: Sterilize and can into a bottle. The bottle will be re-sterilized.
For whole tomato puree production line,we can proivde you suitable solution according your process steps. Contact us freely for your tomato puree business.

For homemade tomato puree we need only ripe tomatoes.Washed and clean the tomatoes and removed the stems.Then boil the tomatoes for couple of minutes and then remove the skin and slice them and grind them in blender.Your tomato puree is ready.You can store this homemade tomato pure into your refrigerator for couple of days.You can use this pure into your curry, soups,also you can make sweet pickles or any kind of gravy.
Technical Data
Tomato Puree Processing Plant Factory
Main Parameters
Hoist
Hoist power: 0.75kw
Size: 2000 * 800 * 1600mm
Bubble type tomato washing machne
Powder:4.45KW / 380V / 50Hz
Size: 2500x1200x1300mm
Broken screw pump
capacity: 0.5-1 ton / hour;
Power: 1.5KW;
Dimensions: 1500 × 500 × 500mm;
Pulp machine
capacity: 1-2.5 tons / hour
Power: 380V, 50Hz, 4Kw;
sandwich pans Stirring

power: 1.5KW
Heating power: 24KW
If the burner is configured: 10W Kcal
Dimensions: 1100 * 980 * 1600
Body size: 800 * 550
Filling machine

1200 * 350 * 350
Voltage 200-250V
Frequency 50 or 60HZ
Customers Who Viewed The Machine Also Viewed