Features
Moringa leaf powder making machine is to grind Moringa leaf. We must first dry the moringa leaves. It can be dried naturally or machine-dried. For moringa processing, it is recommended to use Moringa leaf drying equipment. This can increase the output of Moringa leaf powder.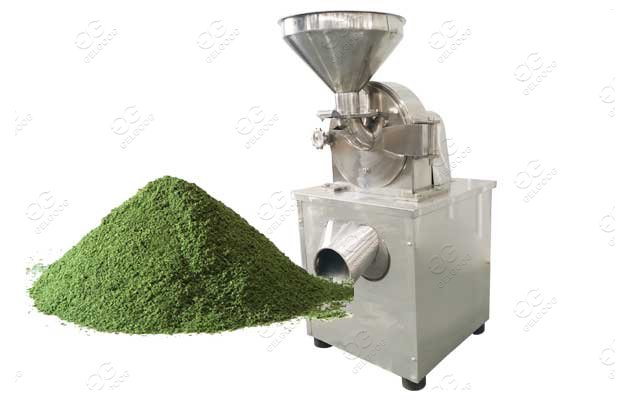 Moringa leaf powder grinding machine has simple structure, stable operation, low noise and good crushing effect. The crushed moringa powder are directly discharged from the crushing chamber. The particle size can be achieved by selecting screens with different apertures.
The moringa powder making machine adopts a vertical crushing mechanism, which is not limited by the viscosity, hardness, and softness of the material, and can have a good crushing effect on any material. It can also be used as a supporting equipment for the pre-processing of micro-pulverizer and ultra-fine grinder. Common processing powder materials include: ginger powder, garlic powder, onion powder, chili powder, herbal powder, fruit powder, etc.
Moringa Spice Pulverizer Machine advantages:
Simple operation: one person can operate it. Easy to learn
Stable performance: the machine has been researched and used for many years
Adjustable particle size: Adjustable fineness of Moringa leaf powder. Range 20-120mesh.
Wide range of applications: suitable for a variety of materials, moringa leaves, herbs, garlic powder, onion powder, etc.
Materials collected in cloth bags: no dust is flying during the production process, and the general machine comes with a dust removal device. The crushed materials automatically enter the collection bag under the action of rotating centrifugal force.
Technical Data
Model
GG--20B-C
GG-30B-C
GG40B-C
GG60B
Capacity(kg/h)
60-150kg/h
100-300kg/h
160-800kg/h
500-1500kg/h
Revolution of spindle
4500r/min
3800r/min
3400r/min
2800r/min
Grinding size
10-200 mesh
Crusher motor
4kw
5.5kw
11kw
15kw
Cleaner motor
0.75kw
Dimension (mm)
550*600*1250
600*700*1450
800*900*1550
1000*900*1680
Weight (kg)
250
320
550
680
Customers Who Viewed The Machine Also Viewed