Features
Our broccoli florets washing machine cleans the dirt attached to the surface of vegetable fresh broccoli by bubble washing type. It imitates human washing action, avoiding collision or friction damage caused by artificial washing. Because the washing machine helps to transform manual into a mechanized process, it improves efficiency.
The nutrients in broccoli are not only high in content, but also very comprehensive. In order to avoid the loss of nutrients and damage the shape of broccoli, we use bubble type washing machine to wash and blanch broccoli.
The broccoli florets washed by bubble type fruit washing machine not only cleans the dirt, but also preserves the color and nutrition of the broccoli.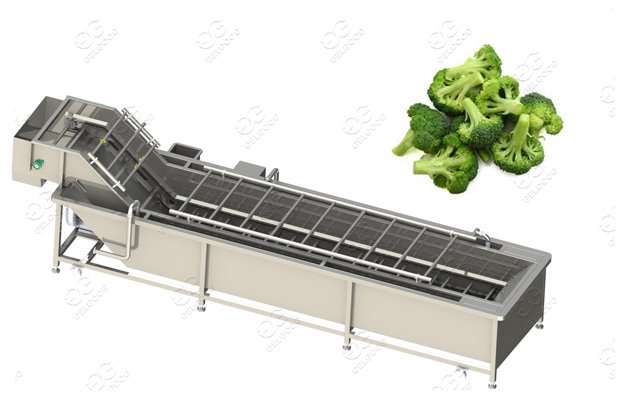 Broccoli florets washing machine introduction:
1: The equipment can be customized according to customer needs
2: Multifunctional, can also clean other vegetables and fruits.
3: Effectively kill harmful bacteria and decompose pesticide residues
4: Customers can adjust the speed of broccoli cleaning according to their own needs.
5: Can provide broccoli cleaning solutions, including cleaning part, air-drying part, quick-freezing part to make
freezing broccoli florets
, packaging part, etc.
Contact us to get the latest information about broccoli processing for free.
This is what our Mexican customer received the unpacking video of our washing machine and installed it in his factory.
Technical Data
| | | | | |
| --- | --- | --- | --- | --- |
| Vegetable washing machine | Power(KW) | Size(MM) | Weight(KG) | Mesh width(MM) |
| GGXQ3000 | 2.2/0.75/1.5 | 3100*1400*1500 | 500 | 600 |
| GGXQ4000 | 4/1.1/1.5 | 4100*1400*1500 | 700 | 800 |
| GGXQ5000 | 5.5/1.5/2.2 | 5100*1400*1500 | 900 | 800 |
| GGXQ6000 | 5.5/1.5/2.2 | 6100*1400*1500 | 1000 | 800 |
| GGXQ7000 | 5.5/1.5/3 | 7100*1400*1500 | 1200 | 800 |
| GGXQ8000 | 5.5/1.5/3 | 8100*1400*1500 | 1350 | 800 |
Customers Who Viewed The Machine Also Viewed