Features
Do you have any doubts about how to clean both ripe and immature blueberries on the one washing machine? Don't worry, our blueberry washing machine can easily solve this problem.
This blueberry washing machine not only has the function of washing, but also have the sorting function. Separates ripe blueberries from unripe blueberries. Our machine has two outlets. The ripe blueberries come out from one end, and the unripe blueberries come out from the other end. The colleague in the cleaning has done the classification. Such a cleaning machine is really good. cut costs.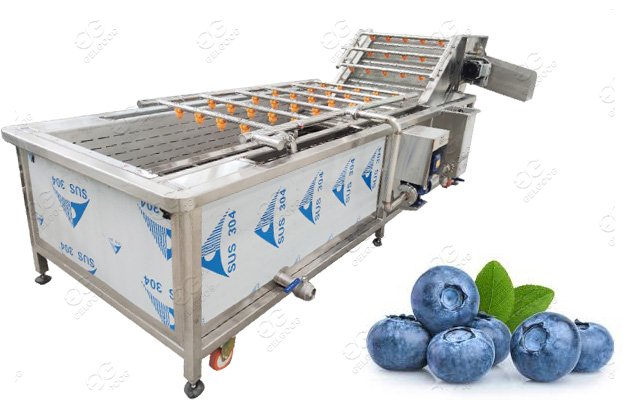 Fruit washing machine multifunctional application :
Suitable for all kinds of fruits and vegetables: blueberry, strawberry, tomato, apple, seafood, mushroom, celery, lettuce, shrimp, corn, etc.
Blueberry washing machine introduction:
The commercial fruit washing machine complies with national food export standards and is made of high-quality SUS304 stainless steel. Our washing machine can be customized according to customers' different processing characteristics, and the degree can meet the process requirements. The washing machine adopts high-pressure spray cleaning, which is mainly divided into two sections. The section is degreased by spraying with cleaning agent, and the second section is the cleaning and washing section.
One stage: The bubble generation cleaning section, the special air distribution method, generates rich air bubbles, makes the material in a tumbling state, guarantees the product to be cleaned on multiple sides, removes the product surface dirt and pesticide residues, and can be added with an appropriate amount of medicament as needed Fixed color, floating matter can overflow from the overflow tank, and sediment is discharged from the sewage outlet to achieve the purpose of cleaning;
Second stage: water spray cleaning device, the water spray nozzle is directly connected to the tap water, and the products after cleaning and disinfection are thoroughly cleaned. In addition, the fresh water after leaching flows back to the bubble cleaning section, which greatly improves the water utilization rate.
This fruit bubble washing machine has a large cleaning capacity and a high cleaning rate. After being turned over to the vibration material feeding machine, it is conveyed to the flexible packaging air dryer for drying, and then the labeling and packing can be performed.
The vegetable and fruit washer machine can be used alone or continuously with our vegetable cutter, waxing machine, sorting machine, etc.
The following is a video introduction of our washing machine, welcome to watch. If you need the blueberry washing machine price list, you can leave a message on our website. We will arrange for your customer manager to contact you, and send you a quote for the suitable fruit washing machine. We also have
blueberry freezing machine
for choice.
Technical Data
| | | | | |
| --- | --- | --- | --- | --- |
| Industrial Blueberry Washing Machine | Power(KW) | Size(MM) | Weight(KG) | Mesh width(MM) |
| GGXQ3000 | 2.2/0.75/1.5 | 3100*1400*1500 | 500 | 600 |
| GGXQ4000 | 4/1.1/1.5 | 4100*1400*1500 | 700 | 800 |
| GGXQ5000 | 5.5/1.5/2.2 | 5100*1400*1500 | 900 | 800 |
| GGXQ6000 | 5.5/1.5/2.2 | 6100*1400*1500 | 1000 | 800 |
| GGXQ7000 | 5.5/1.5/3 | 7100*1400*1500 | 1200 | 800 |
| GGXQ8000 | 5.5/1.5/3 | 8100*1400*1500 | 1350 | 800 |
Customers Who Viewed The Machine Also Viewed