Features
There are many uses for ginger, such as washing fresh ginger and selling it to supermarkets, drying clean ginger, and selling ginger powder and ginger chips.
For the ginger powder and ginger slice business, we need to clean and peel the ginger. In addition to one of our
ginger washing machine
, we also provide ginger washing and peeling machine.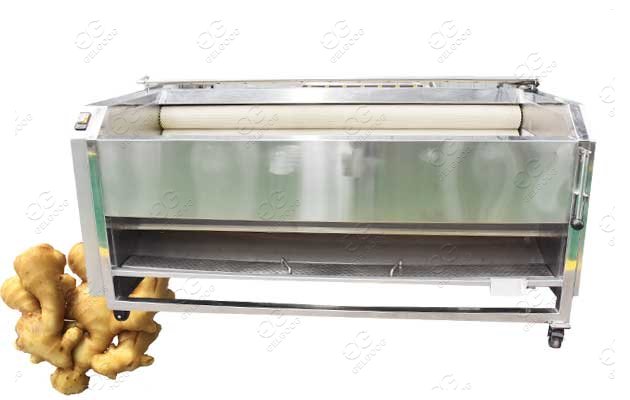 Our stainless steel ginger skin peeler machine can efficiently perform the two operations performed by the machine at the same time, namely the washing and brushing of fruits and vegetables to properly clean the required materials.
There is a set of hard bristle brushes in our brush type washing machine, which can peel ginger while cleaning it. When ginger rolls in the machine, there will be a sprinkler on it to sprinkle water. Wash away the ginger peel.
Our ginger cleaning and peeling machine also has a waste recycling device. The ginger peeling residue falls to the ground and affects the hygiene of the workshop.
After cleaning and peeling the ginger, you can use a ginger slice cutting machine cut ginger into slice. and the thickness of the ginger slices can be set according to customer needs.
Also provide ginger dryer machine ginger juice making machine and so on. If you need ginger processing equipment, please feel free to contact us.

Technical Data
| | | | | | |
| --- | --- | --- | --- | --- | --- |
| Ginger Washing and Cleaning Machine | Power(KW) | Size(mm) | Capacity(KG/H) | Weight(KG) | Roller Size(mm) |
| GGXM800 | 1.1 | 1600*850*800 | 400 | 220 | 800 |
| GGXM1000 | 1.5 | 1800*850*800 | 600 | 260 | 1000 |
| GGXM1200 | 1.5 | 2000*850*800 | 800 | 280 | 1200 |
| GGXM1500 | 2.2 | 2300*850*800 | 1000 | 320 | 1500 |
| GGXM2000 | 3 | 2800*850*800 | 1500 | 420 | 2000 |
| GGXM2600 | 4.37 | 3100*850*1450 | 2000 | 600 | 2600 |
Customers Who Viewed The Machine Also Viewed