Features
As a well-known brand of
ginger washing machine manufacturer
on the market, we provide ginger washing machines with durable properties and high market demand.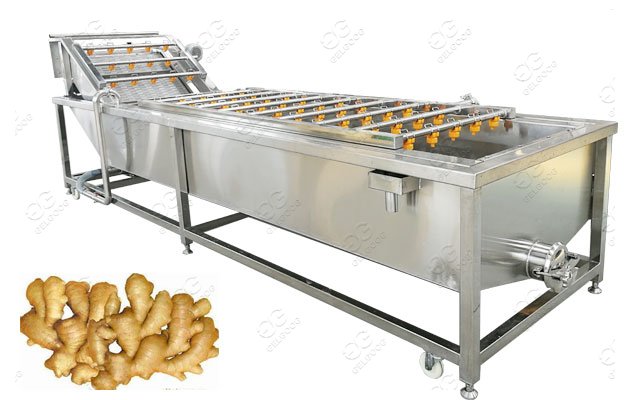 Ginger washing machine also called
turmeric washing machine.
The ginger cleaning machine is a special equipment dedicated to cleaning ginger and other vegetables and fruits. The surface of ginger is rough with deep wrinkles, small holes and slits. General washing machine is not easy to wash ginger. Our fresh ginger washing machine has a new technology of high-pressure spraying, which can effectively remove surface contaminants (such as pesticides, insects, soil, dirt, etc.) without compromising the quality of the material.
How does ginger washing machine clean ginger?
The ginger washing machine uses a high-pressure spray method. The upper part of the washing machine is equipped with a nozzle with a high-pressure spray head, which performs high-pressure water cleaning under the action of the pump. High-pressure water flow and air bubbles will bind and clean the ginger surface to complete the final washing work.
How does ginger cleaner machine recycle washing water?
The machine is equipped with a water filter tank and an overflow port. The clean water brings impurities into the filter layer, and the water in the filter layer enters the filter tank for recycling.
If you need a ginger washing machine with peeling effect, we can provide brush
ginger washing and peeling machine
. Meet the different processing needs of customers.
Technical Data
| | | | | |
| --- | --- | --- | --- | --- |
| Ginger washing machine | Power(KW) | Size(MM) | Weight(KG) | Mesh width(MM) |
| GGXQ3000 | 2.2/0.75/1.5 | 3100*1400*1500 | 500 | 600 |
| GGXQ4000 | 4/1.1/1.5 | 4100*1400*1500 | 700 | 800 |
| GGXQ5000 | 5.5/1.5/2.2 | 5100*1400*1500 | 900 | 800 |
| GGXQ6000 | 5.5/1.5/2.2 | 6100*1400*1500 | 1000 | 800 |
| GGXQ7000 | 5.5/1.5/3 | 7100*1400*1500 | 1200 | 800 |
| GGXQ8000 | 5.5/1.5/3 | 8100*1400*1500 | 1350 | 800 |
Customers Who Viewed The Machine Also Viewed