Features
Our
pepper washing line
is an indispensable process for the deep processing of peppers. Our pepper washing machine adopts SUS304 stainless steel mesh belt, which has the characteristics of stable operation and long life, which meets food hygiene requirements. This vegetable washing machine uses a 2mm thick stainless steel sink body made of 304 stainless steel.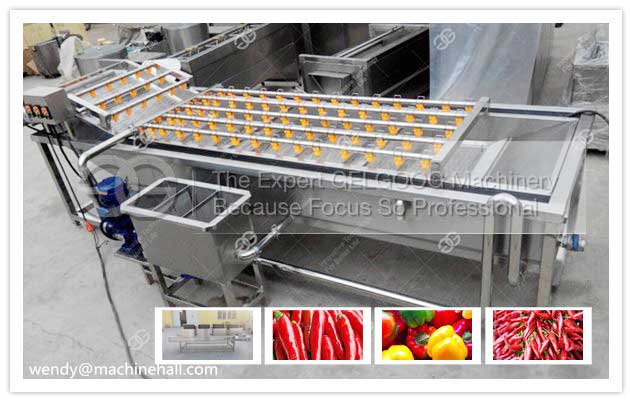 The chili washer machine is provided with a bubble generating device, so that vegeable chili is in a tumbled state to remove the efficacy of the surface pesticide product, and an appropriate amount of reagent is added to disinfect the pure color. Floating debris can overflow from the overflow tank, and the sediment is discharged from the sewage outlet to achieve the purpose of cleaning.
The vegetable washing machine is fully automatic and can be used alone. Can also be matched in the pepper process line. Such as our air dryer, pepper sauce grinding machine and so on.
Fruit washing machine manufacturers:
We are a professional supplier of washing machines. The washing machine we provide is simple to operate, easy to maintain and easy to connect. And the washing machine has a high cost washing machine performance. Not only provide high-quality stand-alone machines, but also customized cleaning solutions. Contact us for manufacturer's prices for washing machines.
Related machine:
pepper sauce making machin
e
,
pepper powder machine.
Technical Data
Vegetable Pepper Chili Washing Line(2000kg/h)
Machine name
power
size
Automatic Vegetable and Fruit Washing Machine
5.1kw/380v/50Hz
5000*1400*1400

Capacity:2000kg/h

Brush Roller Cleaning Machine
2.6kw/380v/50Hz
3500*1100*1100
Capacity:2000kg/h

Air Cooling Drying Machine
3.1kw/380v/50Hz
4000*1100*1000
Capacity:2000kg/h

3.Hand Picking Machine
0.75kw/380v/50Hz
3000*800*900

Sorting Machine
1.5kw/380v/50Hz
2600*1000*1000

Customers Who Viewed The Machine Also Viewed