Features
The stainless steel seaweed washing machine uses a bubble cleaning device, which is not only suitable for kelp, but also can clean other leafy vegetables such as spinach, laver, chili, etc., and can also be customized according to the materials.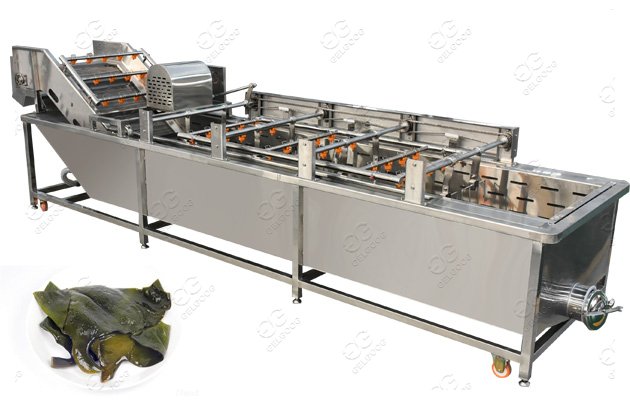 1. The kelp washing machine conforms to the national food industry standards and is made of high-quality stainless steel.
2. The cleaning operation speed can be adjusted. Our customers can arbitrarily set the cleaning speed according to different cleaning materials.
3. The washing machine adopts bubble rolling, brushing and spraying technology to clean the objects to the maximum extent.
4. This kelp washing machine has a high degree of automation and is suitable for use by enterprises of various processing scales.
5. We not only provide kelp washing machine, but also other kelp processing equipment, such as
kelp drying machine
, seaweed cutting machine.
How to clean seaweed:
The material falls into the water, and the material is stirred and cleaned by the tumbling water in the tank. The heavy dirt on the material is separated and falls into the precipitation area below the filter. The material is gradually moved to the conveyor network under the impetus of water. Take it up and be lifted out of the inner tank, and then spray cleaned to wash the material again and enter the following process. The rinsing substance washed down is intercepted by the filter net. During the work, the water inlet pipe and spray pipe always supply water, so that the sewage in the water tank is gradually replaced.
Technical Data
| | | | | |
| --- | --- | --- | --- | --- |
| Seaweed Washing Machine | Power(KW) | Size(MM) | Weight(KG) | Mesh width(MM) |
| GGXQ3000 | 2.2/0.75/1.5 | 3100*1400*1500 | 500 | 600 |
| GGXQ4000 | 4/1.1/1.5 | 4100*1400*1500 | 700 | 800 |
| GGXQ5000 | 5.5/1.5/2.2 | 5100*1400*1500 | 900 | 800 |
| GGXQ6000 | 5.5/1.5/2.2 | 6100*1400*1500 | 1000 | 800 |
| GGXQ7000 | 5.5/1.5/3 | 7100*1400*1500 | 1200 | 800 |
| GGXQ8000 | 5.5/1.5/3 | 8100*1400*1500 | 1350 | 800 |
Customers Who Viewed The Machine Also Viewed