Features
We have a
garlic processing machine
from the harvester to the packing machine.Such as garlic harvester, garlic root, garlic clove garlic peeling machine, separator, separator, mashed garlic, garlic juice, mashed garlic and packing machine.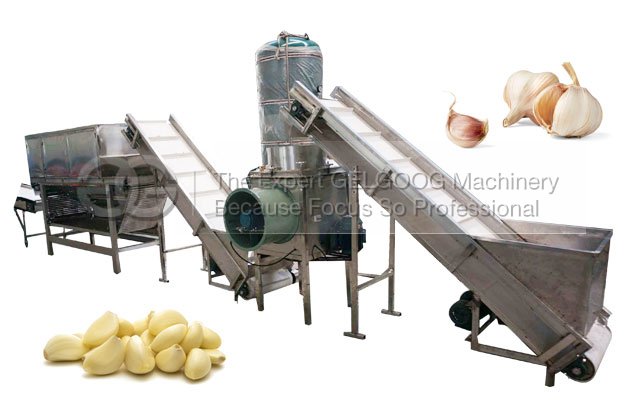 The
garlic sorting machine
is used for sorting with or without the size of peeling garlic, we can use stainless steel or carbon steel. This is the ideal equipment for processing of garlic and garlic, can install belt sorting machine work together.
Garlic separate machine
adopts high-speed handoff rubber soft wheelset, purely manual simulation action, garlic ball stripping, exclusive development of adjustable roller clearance, size and operation is simple, garlic size can be used, and no breakage rate is higher than 98%. Built-in fan, trivial, garlic, the same automatic separation, simple operation, one can be used alone. It has practicality, power saving, high production efficiency, easy maintenance and low failure rate.
The
garlic peeling machine
adopts the principle of pneumatic, which does not damage the garlic after the peeling. It can be completely stripped of the garlic skin in a dry way, so there is no need to put garlic in the water before it is stripped. The peeling rate is up to 95%.
Mashed garlic machine is used to put the vegetables into mud, material can be garlic, ginger, onions, spinach, lotus root, potato etc.. For this machine, you should first cut your material into a size less than 15 millimeters. At the same time, you should keep no sand, because it hurts the machine. The machine is made of stainless steel.
Technical Data
No
Name
Dimension
Power/Material
1
Elevator
3000*500*1800mm
0.75kw
Pvc 304stainless Steel

2
Garlic Breaker Machine
1600*900*1200mm
3kw
300-600kg/h
304stainless Steel
3
PickingLine
3500*800*800mm
1.1kw
304stainless Steel and Manual adjust Speed
4
Peeler Feeder Elevator
2500*500*1600mm
0.75kw
304stainless Steel
5
Chain Peeler
2800*800*1650mm
1.85kw
304stainless Steel
6
PickingLine
4000*800*800 mm
1.1kw
304stainless Steel and Manual adjust Speed
Customers Who Viewed The Machine Also Viewed