Fruit Juice Processing Plant Cost In India
We are fruit juice processing plant manufacturer in China. We can ship our
juice making machine
to India. If you need the fruit pulp manufacturer process PDF and the juice extract project report to set one fruit juice processing plant. You can contact us freely. Email:wendy@machinehall.com Whatsapp/wechat:0086 18539931566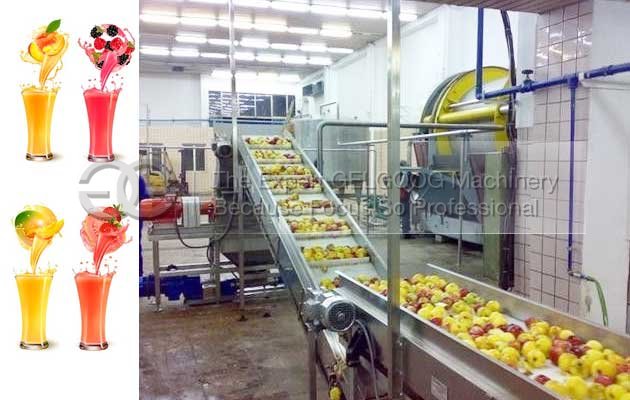 Our company specializes in designing and manufacturing all kinds of equipment for standardized production of fruit juice, jam and beverage.The fruit juice processing plant can be customer-made according customer detail demands. We can provide fruit washing machine, fruit juice extractor machine,
Fruit Juice Sterilization Machine
,raw material dispensing, filling, sterilization, labeling, spurting code and so on. And you also can choose the fruit juice processing plant capacity. There will show your some information about our the fruit juice processing plant:
The whole fruit juice processing plant begins with fruit crushing, and the material is treated in a closed environment. By preheating, breaking, enzymolysis, separation, concentration, sterilization, and aseptic environment, the original flavor and nutrition of the raw materials are preserved to the maximum.
The fruit juice using advanced biological enzyme solution and biological flocculation precipitation technology can obtain apple juice to the maximum degree, and ensure that the effective nutrients in apple juice are not lost, can be degraded and preserved with fruit juice. It is the real "total nutrition" juice. The fruit juice processing plant operation control part uses the automatic control system, the automatic fault alarm system, the omni-directional safety guarantee mechanism, and the security of the equipment and personnel. All the parts of the electronic control system are from the famous international brands, such as SIEMENS, OMRON and so on. The steam control of various types of valves in the production line (extremely important and related to the quality of the products) are well controlled by the famous brand of steam control system of the world, with high reliability, which effectively ensures the uniformity and balance of the quality of different batch products.
For the fruit juice processing plant, if you need the cost, contact us freely. Email:
wendy@machinehall.com
.
This is our
fruit washing machine
working video of the fruit juice processing plant: