Big Market of Fruit Vegetable Drying Machine
We cut fruit vegtable into slice with
cutting machine
, then drying them with
fruit vgetable drying machine
. the fruit vegetable after that process can be stored for six months to a year will not degenerate.After the dry film by rehydration, and fresh fruits and vegetables, color, smell, taste no big difference, suitable for cooking food. Dried fruit can be instant, it basically maintain the original fruit flavor and taste. Dehydrated fruits and vegetables have a huge domestic and international consumer market. The dried fruit vegetable also can be
flavored
with all kinds flavour.
Fruit and vegetable dry film, and then by the expansion of processing, can be an excellent taste of crisp film. Fruits and vegetables crisp is 90 years of the emergence of new leisure food. Fruits and vegetables Crisp is a natural green food, contains a lot of vitamins, without any additives, regular consumption will not get fat, but added a healthy lot of vitamins. Especially for children with anorexia vegetables, edible fruit and vegetable chips can be added to the body needs a variety of vitamins. Therefore, the development of vegetable crisp production has great potential market and social benefits.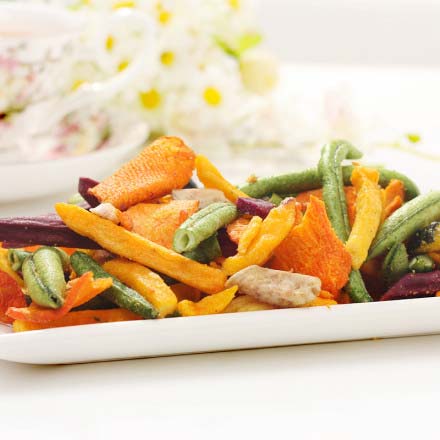 Fruit and vegetable powder is the fruit, vegetables, nourishing Chinese herbal medicine by washing, slicing, or by the dried fruits and vegetables, crisp film production of waste (such as skin, nuclear) dry system, after
grinding
obtained. As a konjac products, candy, dim sum of the natural ingredients or pigments (transfer package, seasoning, adjust the nutritional content); the preparation of various characteristics of MSG, as well as a variety of fruit and vegetable powder products have broad application prospects, Characteristic seasoning salt and biological medium. Parsley, carrots, pumpkin, seaweed head, garlic, onions and other vegetables. Ginseng, Tremella, dog Qi Zi, Astragalus and other Chinese medicine supplements and Pieces; apple, hawthorn, peach and other fruit powder products, not only rich in vitamins, but also to keep their attractive aroma.
Red fruits, apples, peaches, apricots, melons, kiwifruit and other fruits can be processed into a crisp film, the processing of the lower leg, the processing of fruits, vegetables, green peppers, red pepper, Material (skin, nuclear) can be processed into powder.
The use of advanced technology to strengthen drying in the low temperature short-term (about half an hour) under the conditions of dry production, the nutritional ingredients or drug supplement ingredients to minimize losses and to ensure that products meet the sanitation requirements of food drugs. According to the local rich fruits and vegetables, medicinal resources, the use of the technology to develop local conditions with a variety of characteristics of fruits and vegetables, medicine powder products. The fruits and vegetables by slicing, dehydration, dehydrated fruits and vegetables into a film. We also can grinder these dried furit vegetable into poswer. We aslo have dried
fruit vegtable ginder machine
for your choice. Such dry film by vacuum packaging, can be stored for six months to a year will not degenerate. After the dry film by rehydration, and fresh fruits and vegetables, color, smell, taste no big difference, suitable for cooking food. fi you need want grinding dried fruit vegetable, flavoring them is also a great choice. Dried fruit can be instant, it basically maintain the original fruit flavor and taste. Dehydrated fruits and vegetables have a huge domestic and international consumer market.