Carrot Washing Machine For Sale With Design Show
Carrot brush washing machine
Carrot washing machines
are mainly used for cleaning root and stem vegetables. Such as carrots, white radishes, potatoes, sweet potatoes and other bulbous vegetables.
The large brush carrot cleaning machine is divided into different types according to the customer's processing output. The carrot cleaning single machine and the carrot washing line. The single carrot cleaning machine is mainly used for small customers to clean the amount of carrots per day for customers who use carrot finishing. If the daily output of rough carrot customers is more than 10 tons, we recommend that customers use carrot cleaning lines. Can help customers better handle carrots.
Carrot washing machine design:
The carrot washing machine consists of electric control buttons, 9 Brush roller,spraying device,Frequency conversion propulsion,water receiving tank, water inlet, outlet, water outlet, filter screen, and machine support frame.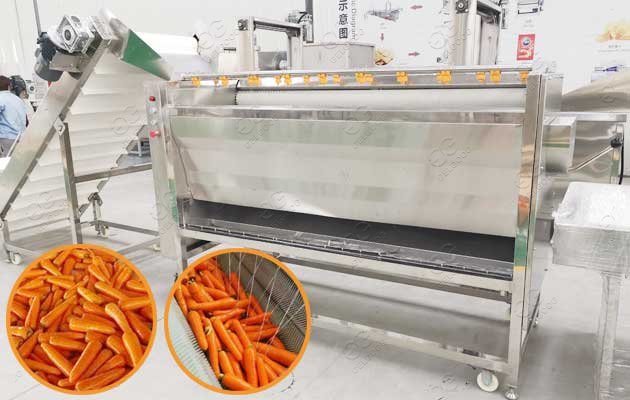 The brush uses imported nylon wire as the main raw material, which is durable and wear-resistant. The carrot washing machine has a spray tube on top. Spray rinse during cleaning. There is a sink at the bottom to prevent water from splashing to the ground. All parts of the equipment except the motor are made of sus304, which meets the food safety level.
Carrot washing machine manufacturer
As a manufacturer of carrot washing machines, we have more than ten years of technology and business, mainly engaged in the development, research, production and sales of food machinery. The machinery and equipment mainly include bubble washing machines, brush peeling washing machines, vegetable cutters, dehydration dryers, frying machines, and other vegetable processing production equipment.
Carrot washing machine video: If you need carrot washing machine quotation, contact us freely. Or leave messgae on below inquiry sheet.